February 8, 2013 | Alex
Now that I've got a master plan for Ryan's bedroom (if not any demonstrable progress towards execution), I've started to turn my thoughts to the adjacent bathroom.
The bathroom was beautifully renovated by a previous owner and further accessorized by a subsequent owner, so there are a variety of built-in design elements. For example, contemporary faux bois floor tile and mint green square glass mosaic tile co-exist with polished chrome towel racks from Restoration Hardware's Asbury Collection. I like a mix of styles, but I need to careful not to rock the boat too much in one direction or it could seem as though I'm trying to ram a modern aesthetic down the throat of a traditional space.
Here's my master plan for the bathroom-- with a few decorative accents thrown in to convey the personality of the space (if you don't have natural light for plants in your bathroom, how about these candles disguised as succulents!):
Sources (clockwise from top left)
I would also like to find Ryan an attractive laundry hamper. The master bath has a bamboo waterfall curtain that rolls down to hide the stacked washer/dryer, so I was thinking of keeping it the woven family to try to tie the bamboo in with the other materials. I also just love the look of African baskets-- if your hamper is going to be on display, might as well make it a statement piece, right?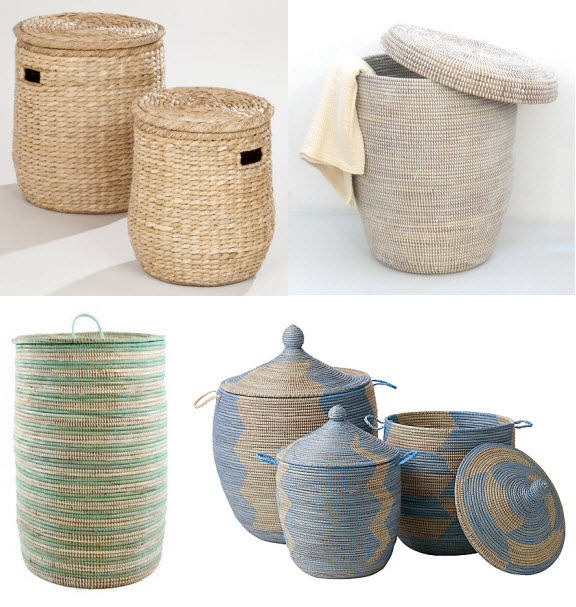 Sources
If you're purely here for visual inspiration, I won't hold it against you. But if you're interested in a breakdown of the functional problems that require solving, read on!
1. The light fixtures over the sink are permanently damaged.
One was actually damaged before Ryan even bought the apartment, but the realtor claimed the lightbulb merely needed replacing-- in retrospect, we should have figured out that if that was true, the owner probably would have taken the time to change a conspicuous broken light bulb before an open house. Another fixture gave out soon after Ryan closed on the place. The electrician wasn't able to fix them, so they will need to be replaced. Florescent tubes are a huge nightmare for a variety of reasons, so we've decided to go a different route. I love the utilitarian look of porcelain wall sockets with chrome tipped lightbulbs. The price tag doesn't hurt either. Rather than try to match replacement tile to patch the spots where the current fixtures will be removed, we plan to frame out the mirror-- possibly in an oak veneer frame. Thoughts on the viability of oak veneer in a humid room are most welcome.
2. The wall-mounted sinks are beautiful, but don't provide enough surface area for two people + one dog.
What kind of bath products does a dog need, you might ask? You'd be surprised-- he's got about as much stuff as Ryan and I put together (granted, we are a relatively low maintenance couple.) Since we often use the toilet as a grooming pedestal, I'm toying with adding a floating shelf above it. But for human grooming, we really need a surface that's easily reachable from the sink. The trick is to find something tall enough to reach without bending over, but narrow enough to fit comfortably between the two sinks. At first, I was swooing over CB2's TPS mint file cabinet, but both the dimensions and color are just a tiny bit off. Lucky for me, I think a 3-unit Componibili will be just about perfect (albeit pricey). And in addition to providing extra surface area, a Componibili would provide covered storage. Which brings me problem #3...
3. Lack of easily accessible covered storage
The previous owner who renovated the space did something pretty nifty to maximize storage in a small bathroom. A bump-out behind the sinks contains small cubby-like storage on either side of the unit. It's great for stashing extra rolls of toilet paper, contact lenses or small cosmetics. But the cubbies are trickier for larger or irregularly-sized toiletries. And although the master bath is not really a public space, I don't love to have unattractive, infrequently used yet necessary products (like this) on display 24/7. The Componibili will help stash toilettries, but since the master bath does double-duty as a laundry room, we also added a simple Ikea Expedit unit next to the washer/dryer to provide extra storage.
4. All towel bars, no hooks.
Don't get me wrong-- I love a good towel bar. But what to do when your towel is sopping wet? A hook reigns supreme in those situations. Lucky for me, Restoration Hardware is holding a bed + bath sale! Although the Asbury Collection may not be what I would have picked out, it makes sense to keep the hardware consistent throughout. Swapping it all out for a more contemporary line of hardware is most definitely not in the budget.
5. No toilet paper holder
Okay, here I have a dilemma. The Asbury Collection includes a toilet paper holder. But it's $50...and that's the sale price. What to do? I don't know if I can bring myself to pay that much money for a toilet paper holder. Maybe we can continue to use the cubbies for toilet paper storage?