November 26, 2012 | Alex
Believe it or not, it's Day 30 of my One Kings Lane 30-Day Challenge and the holiday season is officially upon us. And while holidays are ostensibly about family, togetherness, giving, and rejoicing in the goodness of humankind, yada, yada, yada...to lots of us holidays mean two things: house guests and retail. So in homage to these time-honored midwinter traditions, for my final installment of a One Kings Lane mood board...drum roll, please...I bring you six guest rooms inspired by a few of my favorite retailers. Each with a subtle nod to the holiday season.
Excluding the Ikea Sveio nightstand that plays a starring role in each board, all items are sourced from today's sales on One Kings Lane. As such, these boards don't actually contain items by the retailer that inspired them. What?! I know! SO confusing. But "inspired" is a beautiful word that's applied pretty loosely these days. I chose to channel the spirit (or aura, if you believe in that sort of thing) of the retailers I deeply esteem and admire. Imitation is the sincerest form of flattery.
A few notes on guest room essentials for those prepping for guests. As a demanding guest, I like to see a couple items on or around the nightstand of my temporary living quarters:
A water glass. And perhaps a carafe if you're feeling generous and/or your bathroom sinks do not dispense potable water. (FYI, anything outside of NYC is borderline.)
A small dish or shallow bowl for a guest to stash ear plugs, earrings, hair elastics, watch, etc.
A reading light
A soft surface on the floor beside bed (acceptable forms include: area rugs, runners, bath mats or animal skin.)
Tissues
An alarm clock used to be recommended, but I think most people use their cell phones these days. A charger would be a nice thing to include, but really, your guests should have their act together enough to remember to bring their own charger (Not that I do remember to bring my own charger when I travel, just saying I should.)
I love the idea of adding a little holiday flavor by pinning ornaments up on the wall over the nightstand. It would be a cute and subtle way to recognize that indeed it is December and that is something we celebrate. I've also included candlestick holders because a) there were a multitide of cool candlestick holders on sale today and b) there are some bedroom activities that are best conducted by the low, flattering light of a candle. Like telling ghost stories or reading Dickens. (Really. This is a family blog. Mind out of the gutter.)
Inspired by: Jonathan Adler
These mid-century modern lines, funky ceramics, bold pops of color and graphic patterns scream Jonathan Adler to me. Granted, it's more of a "Jonathan Adler Goes to Morocco" kind of thing, but I bet Morocco's nice this time of year and I'm sure he wouldn't mind a quick jaunt.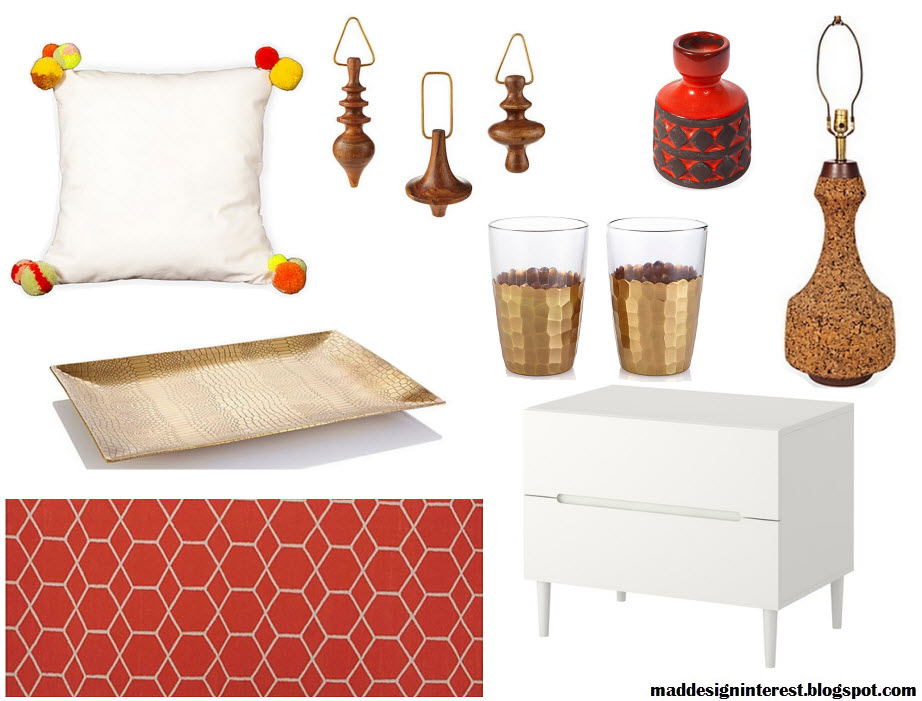 Sources (clockwise from top left)
Inspired by: Calypso St. Barth
Calypso St. Barth is one of my go-to retailers (my mom's too!) for clothes and home alike. They have a great interplay between sophisticated neutrals and pastels with a hint of beachy glamour. This shimmering, ethereal nightstand set-up really reminds me of their vibe. Especially that stalactite candleholder-- doesn't it look kinda like the drip castles kids make on the beach?
Sources (clockwise from top left)
Inspired by: Kate Spade
Kate Spade is the queen of polka dots and playful, preppy style. The illustrated rope and quirky ampersand cushions instantly reminded me of her. I especially love Kate Spade because as fun and flirty as her designs are, she never lets it veer too far into girlie girl territory. I tried to apply that same philosophy here by using gender-neutral colors for the more feminine patterns and tempering the super-bling ornaments with a black & white boxing photo (how cool is that shot?) and masculine wood & iron candlestick holders.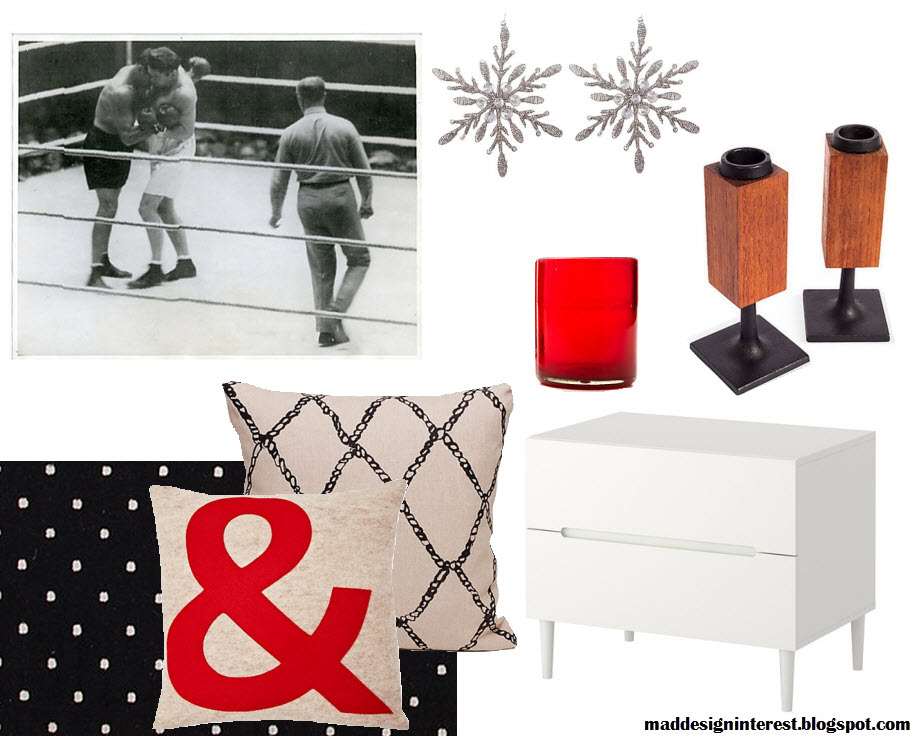 Sources (clockwise from top left)
Inspired by: Anthropologie
For my Anthropologie-inspired nighstand, I went for a more bohemian and vintage look. Anthropologie does a great job of incorporating a lot of natural elements, so threw in the raw teak bowl, bird statue, vintage oil paintings of vegetables and those cool wood curl ornaments as nods to mother nature. (Linz, with its yellow and purple color scheme, this one's for you.)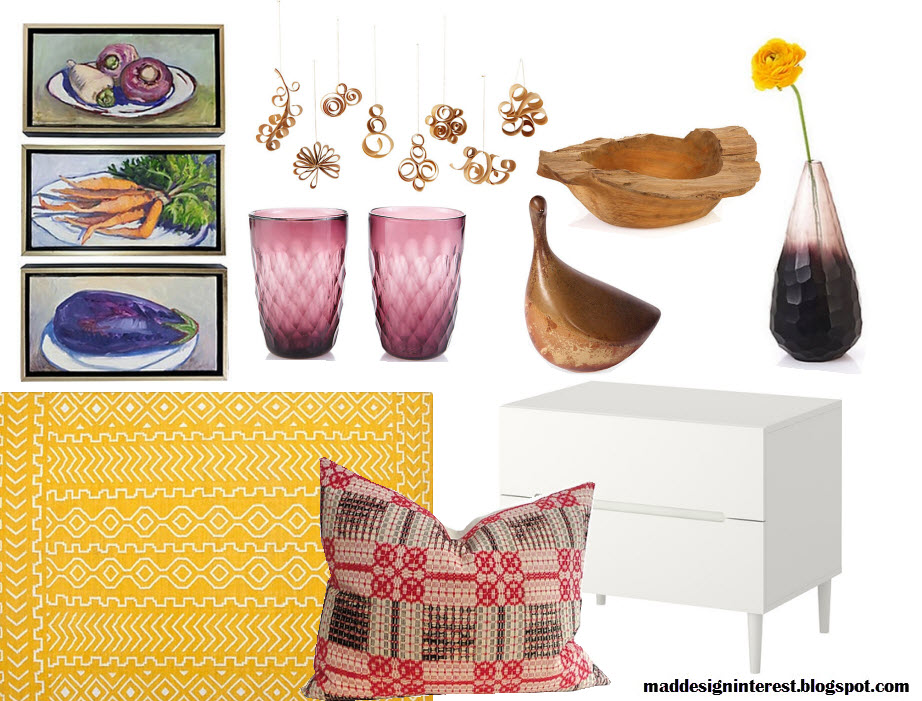 Sources (clockwise from top left)
Inspired by: West Elm
It's hard to pin down West Elm's style these days, because they've really diversified their audience with their global collections. But in spite of that, I think they've done a great job of staying true to their classic style. To me, West Elm is fresh, clean, down-to-earth and immensely liveable.
Sources (Clockwise from top left)
Inspired by: Restoration Hardware
Restoration Hardware usually goes in pretty hard for the whole holiday thing. Holiday-themed catalog, special gift items and what not. So this is the most heavy handedly holiday-themed of the boards. But in ephemeral Restoration Hardware style, it's mixes modern with industrial accents and includes sepia-toned artwork and a wee bit of french country (witness grain sack pillow).
Sources (Clockwise from top left)