April 10, 2013 | Alex
In 16 days, I'll be in Austin, TX. I once read that roughly half the psychological benefit of a vacation is derived from the planning and anticipation. I believe it! Just thinking about our upcoming trip puts a smile on my face. (Even if I am a smidge nervous to travel with the pup-- his first plane ride. Any tips?)
While I appreciate Austin for its famed live music scene, epic BBQ and near perfect climate, what I dig most about the city is its vibe. Austin has killer style! So with the countdown to Austin rapidly approaching zero, I find myself gravitating towards objects with a funky, modern Southwest vibe.
Here's what I'm coveting now: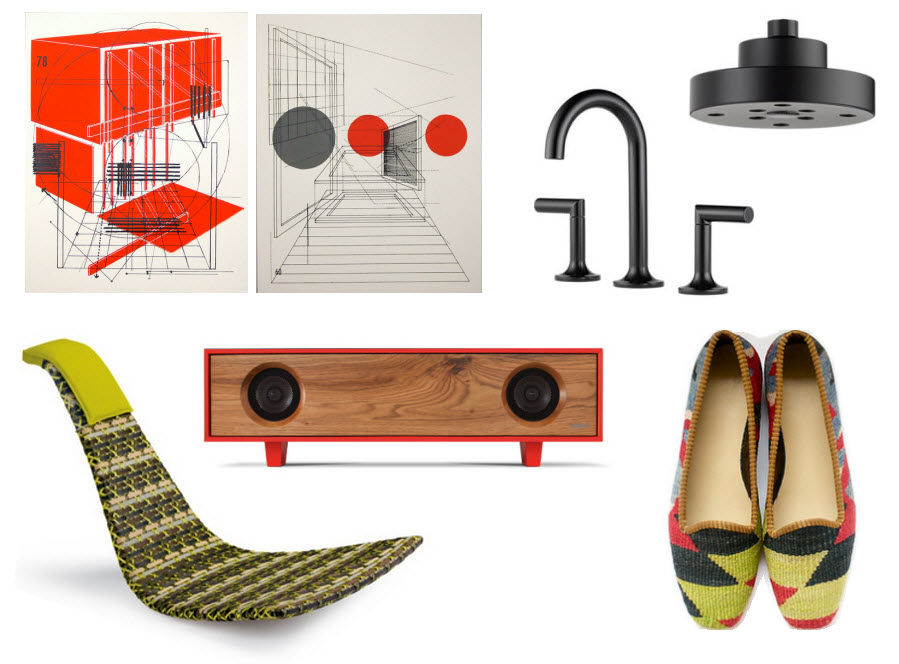 This vacation is, in part, to celebrate the conclusion of my drafting class at Parsons, so these architectural silkscreen prints by Ben Kafton ($30 ea. via Etsy) seem especially appropriate to include. Now if only the drawings for my final presentation looked so good...
I'm a little late to the party on this one, but the Jason Wu for Brizo Collection is intensely covet-worthy. Oh, that shower head! ($340 for the full shower kit, via ebay). Although Brizo does offer the collection in a range of traditional finishes, the matte black is a stand-out.
How neat are these kilim shoes? ($129 via Etsy) One day, I'd love a giant vintage kilim on my floor. But until my budget catches up to my covet list, I'll happily settle for a kilim on my feet!
After spotting Horne's Tabletop Hi-Fi console ($1,800) in the April edition of Lonny, I immediately fired off an email to Ryan (subject line: I want I want I want.) He responded, in true boy form, "very cool. very expensive." Yup. That just about covers it.
Speaking of cool/expensive, check out the FEDRO Floor Rocker, by Lorenza Bozzoli for DEDON, spotted on Design Milk. Even though Austin's Hotel San Jose is quite possibly one of my favorite places on the planet, we opted for the Airbnb route this trip so that we city kids (and city dog) can experience the joys of private outdoor space. Maybe one day I'll have a reason to shop for outdoor furniture, but until then, I'll content myself with admiring these strange and beautiful creations in Dedon's Soho showroom.