February 6, 2013 | Alex
As I took a coffee break and perused my Google Reader feed, I happened upon this post by Emily Henderson. As I've mentioned before, her update of Glee co-creater Ian Brennan's house in LA is one of my favorite before/after shoots. It's rich with inspiration for-- as Emily dubs it-- "dude design." The headboard color in Brennan's bedroom also happens to be a near identical match for the custom headboard I made for Ryan's bedroom in Brooklyn, back when he moved here in 2011. (That's right-- I said "made." Let it be known that I have exceptionally advanced stapling skills.)
Emily's description of how she pulled together and styled the bedroom under time pressure for HGTV's show Secrets from a Stylist reminded me how I've been "working on" pulling together Ryan's bedroom for going on 2 years. And by "working on," I of course mean occasionally thinking about, but not making material progress on. But if I was under the gun to meet a production schedule, how would I pull it together?
Commence fantasy. Well, let's first assume I have a generous corporate sponsor. Second, let's say it's an extremely limited time frame-- and that estimated shipping time from One Kings Lane is 5-10 mins (we're in a fantasy world, remember?) If both those conditions are met, I could pull together Ryan's bedroom lickity-split.
Here's how I think I'd do it: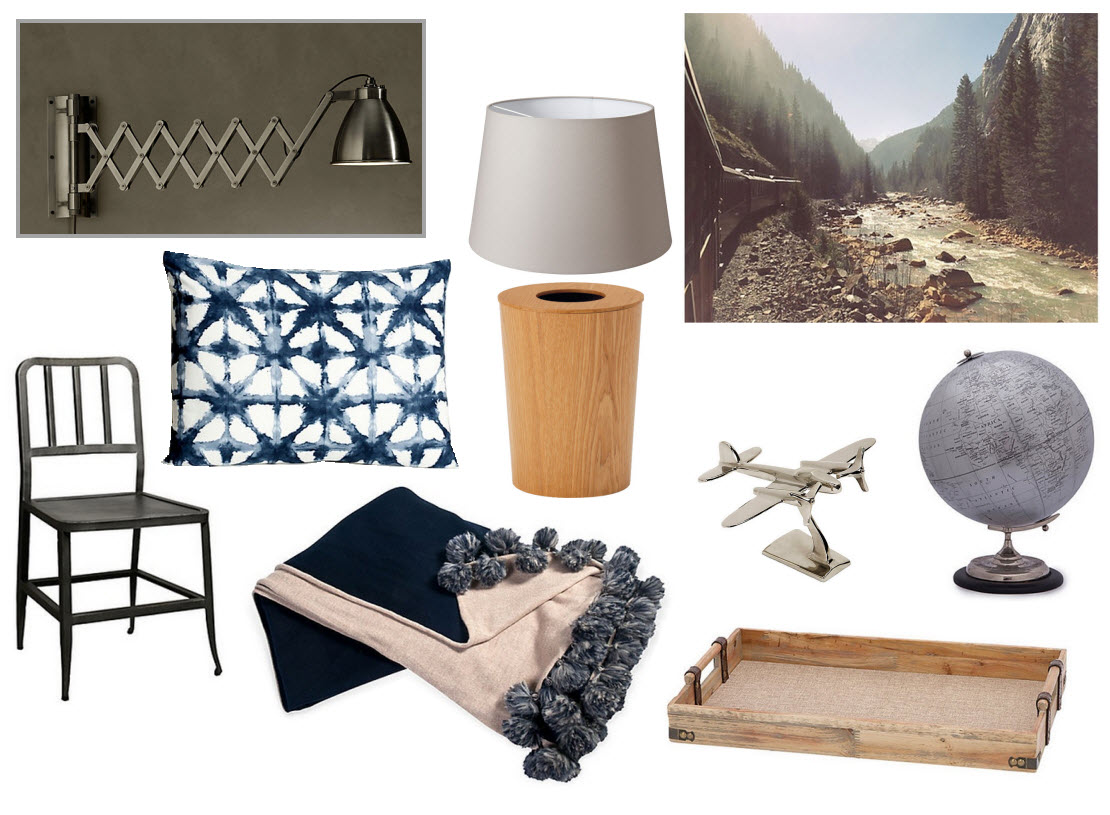 Sources (clockwise from top left)
Industrial Extending Scissor Sconce, Restoration Hardware - $159.99 (*sale price)
JARA Shade - Gray, Ikea - $19.99
Ash Dustbox, Muji - $49.99
Kevin Russ, Colorado Canyon Railroad, via One Kings Lane - $189 - $299
9" Up in the Air Plane, via One Kings Lane - $25
16" Silver Desk Globe, via One Kings Lane - $49
Rustic Wood Tray, via One Kings Lane - $45
Alpaca Pom Pom Throw - Navy and Beige, via One Kings Lane - $389
Shibori Sham - Blue, Vera Wang Bedding, via One Kings Lane - $45 - $49
Set of 2 Industrial Metal Side Chairs - Iron, via One Kings Lane - $269
*Italics indicate items Ryan owns. His duvet (not pictured) is Restoration Hardware's Stonewashed Belgian Linen in Indigo.
A couple of items merit some explanation. The Muji dustbox , for example, was purchased 4 months ago with the intention of turning it into a lamp. This will happen. Just as soon as I learn how to balance a full-time job, evening classes, a blog, freelance design work, my personal relationships, my beloved pup and mastering the basics of electric wiring without being so darn lazy. And without making excuses like, "but it's cold outside and the electrical supply shop is far away."
I would re-purpose the iron side chair, part of a pair available today on OKL, as an end table. This is a favorite Emily Henderson trick and a really nifty one at that. This vintage drafting stool could also make a cool (albeit small) side table-- and it's adjustable! Bonus.
The reversible alpaca pom pom throw I am deeply in love with, but sadly, cannot buy because it is nearly $400. I wish someone out there would just buy it already, so I could be saved from myself. (I briefly tried to make the argument that if my 2012 tax refund exceeded the cost of blanket, then it was like the government was buying me the blanket. But even I knew those were just the deranged justifications of an shopaholic.)
In terms of a floor covering for the bedroom area, it's got to be Flor or nothing. The aforementioned beloved pup has the occasional potty training slip-up (mostly when he feels he is not receiving sufficient attention-- "sufficient" being defined as 100% of the attention of every human being or animal in his immediate environs.)

I ordered Flor tiles for Ryan's study a couple months ago and have been over the moon with how dog-friendly they are. I would even go so far as to say that they meet the insane-in-the-membrane puppy-friendly standard. Hektor is as about as rambunctious as they get, and besides some light damage to one corner he decided to chew on (maybe just his way of saying, "hey! welcome to the apartment"?), the Flor tiles look good as new. For around the bed, I've narrowed it down to three pattern options:
Since the patterns are large-scale, it's tricky to get a sense of the full effect from the samples-- click the links below for an in-room view. But the common theme is a cool grey with subtle blue undertones (I swear the blue undertones are more subtle in person.) The best thing about purchasing Flor tiles for around the bed is that we won't waste money on square footage underneath the bed-- we'll just purchase enough tiles to create a border around the bed, with a small amount of tile underneath the bed to give the appearance of a full area rug.

Sources
Reoriented - Pepper, Flor - $18/sq
Kilt - Smoke, Flor - $14/sq
Reoriented - Grey, Flor - $18/sq
End fantasy. The Flor carpet around the bed is a realistic proposition and I think I might one day make that lamp. Check back in 2017 for a before/after that will knock your socks off.
Important Note: Mother/Daughter Design Interest is a member of One Kings Lane's affiliate program. We are very grateful for the opportunity our partnership provides us to create new content for our readers on a daily basis.