January 15, 2013 | Alex
An interest in wallpaper is a fairly new phenomenon for me. Much of my wallpaper-related anxieties stem from its permanency. As a renter, wallpaper never crossed my mind. That is, until I starting reading about the wide array of temporary wallpapers hitting the market (thanks for the hot tip, Apartment Therapy.) Can I get a "Hallelujah" for renter-friendly innovation?
One of my favorite sources for removable wallpaper is Spoonflower. Their self-adhesive, PVC-free wallpaper sticks on to your walls without any additional glue and can be easily peeled off when you tire of the pattern or move out of your apartment. I also love how affordable their pricing is ($5 per liner foot). One word of warning: Their selection is massive, so you practically need a holiday weekend to find the right fit (Hello, MLK day!). Also, since fabric is their bread-and-butter, many of the patterns are scaled according. A tiny repeat might be sweet on a throw pillow, but dizzying on your walls. Fortunately, most designers on Spoonflower will rescale a pattern for you-- just ask!
But even once over the logistical hurdle, heavily wallpapered spaces elicited a big "meh" out of me until recently. Which brings me to my second, more pervasive wallpaper-related anxiety: most wallpaper patterns you see in the design sphere are pretty darn girly. (As discussed ad nauseum in a prior post, I have a mild allergic reaction to overly feminine interiors.) While many textured or graphic patterns have unisex appeal, thematic wallpaper is usually involves some combination of fairies, butterflies, tropical birds, roses, or shepardess with curly-ques.
Nothing against Little Bo Peep, but when she's plastered all over your wall in a 4" repeat, it can be a little cloying. Yet, strangely, over the weekend, I couldn't stop thinking about this aggressively wallpapered loft to which Gilt Editor Chassie Post relocated her husband and son from Atlanta:
It's so visually compelling, but HOLY girliness. I can't imagine my boyfriend feeling at home surrounded by these walls.

So what's the manly man to do? Is there no thematic wallpaper out there for him? I didn't buy it, so I made it my mission to comb Spoonflower's archives for thematic wallpaper with which man and woman can co-exist peacefully, no matter their interests. Granted, some of these get pretty funky-- but, you know, I like my wallpaper weird and I'm not ashamed to say it.
Naturalists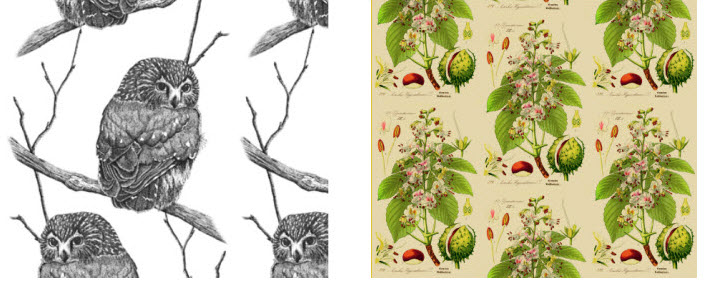 Sources
The Nautically-Inclined