January 23, 2013 | Alex
When you decorate a space, where do you begin? Well, I like to begin with art.
I'm not a fan of rules when it comes to decorating. I once read in House Beautiful that every room simply must have an accent that makes your eyes pop. Reading that made a blood vessel in my neck pop. Look, it's your house, do your thing. But in practice, strategies can be helpful. Not maxims or even guidelines, but strategies. I'm comfortable with strategies.
One of my favorite strategies is to use a work of art as a jumping off point. Why? Because look to your art collection and therein lies your aesthetic sensibility, signs of your roots, and clues to how you see yourself and how you want the world to see you. In short, the art you bring into your home is the special sauce that makes you you. Ok, so there's your daily dose of profundity. Moving on.
I use art as a diving board in 1-of-2 ways:
Take cues from the palette, but contrast the style.
Take stylistic cues from the piece, but contrast the palette.
A space I remember is usually one with a compelling balance of complement and contrast. To demonstrate how to employ these strategies in practice, I'm super excited to launch a recurring series called complement | contrast.
In each installation, I'll begin with two works of affordable art. One will be styled using the "complementary palette | contrasting style" strategy. The second will be styled with the "complementary style | contrasting palette" approach. If I'm feeling really crazy, I might even style the same piece two ways. Here goes.
complementary palette | constrasting style
Me at 28, by B.D. White (Acrylic Spray Paint, 36" x 36") via Artsicle.com
complement | The room plays off the teal, black & white palette of the piece, with a few brown accents thrown in.
contrast | Where the figure is masculine, the floral pillow is feminine. Where the figure's expression is very human, the light fixtures are sterile and robotic. Where the canvas is square and acrylic, the side table is round and composed of natural materials. Where the piece's lines are organic, the vase is geometric and the rug grid-like. Where the street art inspired medium is urban, the cowhide chair is rustic.
Sources (clockwise from top left)
complementary style | contrasting palette
Ellie Sitting, by Matt Capucilli (Acrylic on Canvas, 36" x 24") via Artsicle.com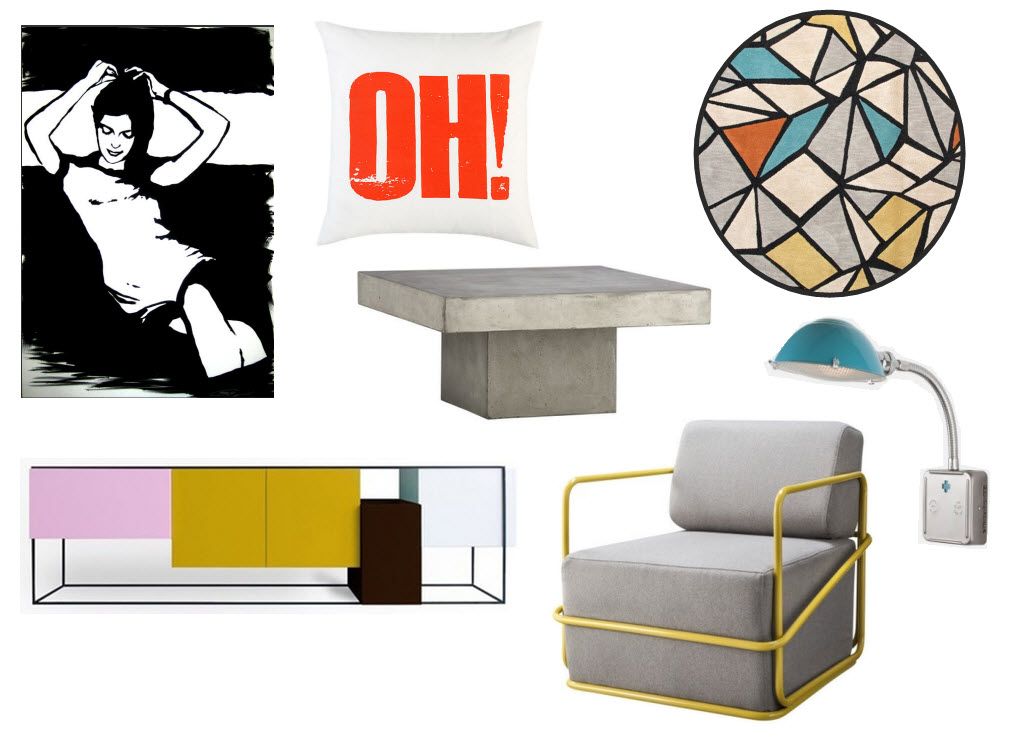 complement | A graffiti pillow complements the street-art reminiscent piece. A concrete table complements the minimalism of the canvas. The bisecting diagonal lines of the kaleidoscope rug and arm chair complement the diagonal composition of the figure. A construction-site sconce complements the industrial, urban tone of the piece. A long, low credenza echoes the rectangle running lengthwise across the canvas.
contrast | A black & white canvas contrasts with color-block furniture, with gray thrown in as a unifying neutral.
Sources (clockwise from top left)