December 27, 2012 | Alex
I hope everyone had a wonderful holiday (or, better yet, that you're still enjoying your holiday.)
I signed off the blog for a couple days to celebrate at Christmas at my parents' house. Very relaxing with great food, cheerful holiday decor, many trips to the beach to wear out Hektor, followed by some glorious puppy cuddling time. Hektor turned one yesterday, so we did a dual Christmas/Birthday celebration. He got a birthday veal bone and a stocking full of tennis balls-- all of which he promptly tore to pieces in under 10 minutes. He's a spirited one, that Hektor.
But, alas, now it's back to the grind! January is typically a dismal month for me, but I think this year might be different. I have a lot of exciting projects coming up in 2013. One of which is to finally complete Ryan's study!
I've been talking about Ryan's study since I started the blog back in May. Since it's the space Ryan uses the most, we initially thought it would be a priority. After adopting Hektor, we (wisely) decided to hold off on decorating the study until we were out of the woods on house training. Oh man, am I glad we did. Ryan's poor Dash & Albert rug has seen it all. It's served us well, but Step 1 will be to kick it to the curb-- with a BIG sign taped reading, "House Training Victim. Take At Your Own Risk" taped to the front to dissuade bargain-seeking Brooklynites.
Step 2 is to pick a replacement rug that can be easily cleaned. While Hektor shows basic mastery of the "do your business outside" concept, he occasionally backslides. And with a dog of any age, there's always the risk of an upset stomach. Enter Flor tiles! Flor has been around for a while, but only since becoming a dog owner have I truly appreciated their offerings.
Flor's products are treated nylon (like an industrial carpet), but in colors and patterns you'd expect to find only in wool or cotton rugs. As the name suggests, their products are sold in "tiles" that attach to each other on the bottom with a patented Flor sticker. So if Hektor does have an accident, we can either wipe it down with a Clorox wipe or, for more serious accidents, detach the one victimized tile and hose it down in the sink or shower. If he does irrevocable damage, like chewing, the one tile can be replaced for about $14 (rather than replacing the whole carpet.) A lot of people complain that the carpets feel industrial under bare feet. They are synthetic fabric, so no, it doesn't feel like walking on a flokati. But both Ryan and I did the barefoot test and were comfortable with the way it felt.
The one weakness of Flor products is that they cannot be used over existing carpet (like wall-to-wall carpet) or any kind of padded floor. The cushioning causes the stickers to strain, which will separate the tiles. I learned this recently when considering them for another project (a super exciting project I'm keeping under wraps for now, but hope to reveal soon!)
That's enough chit-chat. Let's get into some images! Here's what I'm thinking for Ryan's study:
Sources
Ryan already owns the Dash & Albert Saranac pillow, the Brooklyn Bridge print (part of my Art.com winnings!) and a Karlstad sofa from Ikea. He bought the sofa when he moved to Brooklyn in the Isunda Gray. While the slipcover is a smidge rough in texture, it served us well. That is until a teething Hektor discovered a loose thread and unraveled a good chunk out of the fabric playing tug-of-war with the sofa arm. We're planning to replace it with a natural linen slipcover from Bemz, a Swedish company that makes slipcovers specifically for Ikea furniture in a variety of fabrics from European textile mills. The fabrics are much higher quality than Ikea, but still reasonably priced (unless you spring for the designer fabrics, like Marimekko, which is tempting.)
The mid-century modern inspired legs were purchased unfinished for $12 each from tablelegs.com. I sanded, stained them and screwed them into holes made for the Ikea legs. Easiest Ikea hack in history.
The blue is a Farrow & Ball color I fell in love with when I saw it on Emily Henderson's Instagram feed. We may or may not paint an accent wall behind the sofa. Yes, it would look cool-- especially with the Easy Chair Flor tiles in Burnt Umber. But is it necessary? Definitely not. We shall see what happens.
At the moment, more pressing decisions are begging to be made. For example:
Office chair #1? Or office chair #2?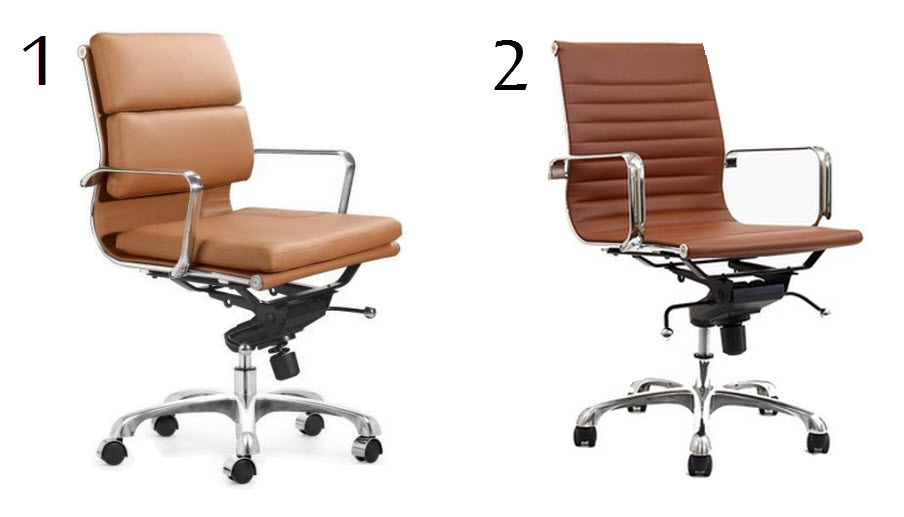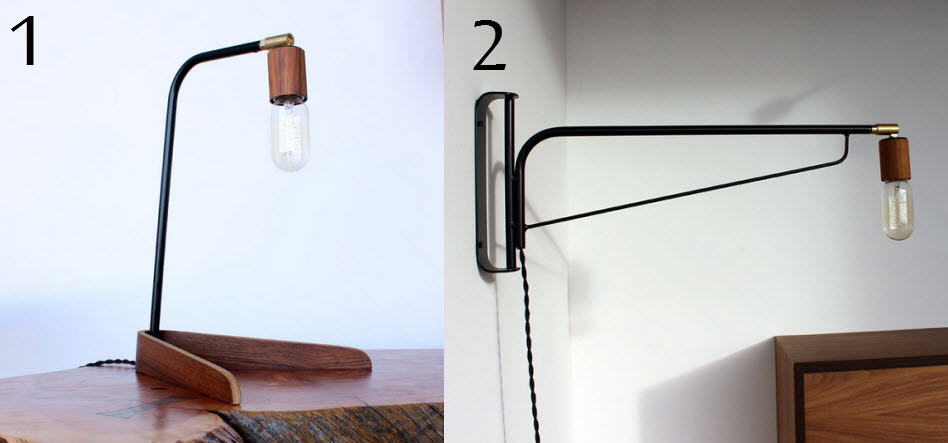 Sources
Emerson Desk Light, OneFortyThree - $115
Otis Wall Light 24", One Forty Three - $175
Should Ryan hold out for his dream of installing recessed lighting over the study? (He has great recessed lighting on one half of the downstairs, but mysteriously, only over the bedroom half. Over the study half-- nada.) Or give it up and just buy a floor lamp already?