November 12, 2012 | Alex
This weekend was a big one for home decor inspiration. Definitely the most visually stimulating Saturday I've spent in a while. Maybe venturing outside of Brooklyn on a weekend isn't so terrible?
Cl
ub Monaco (SoHo)
The Club Monaco in SoHo consistently has some of the best retail displays in New York. My interest is fashion has waned of late, but I can never resist stopping into this Club Monaco for design inspiration.
Check out their awesome gallery walls! I like how they filled a large swathe of wall space by putting a larger frame over a smaller framed photo (first image) and by mixing in a few empty frames (second image). A good trick to keep in mind for the financially-impaired.
Room & Board (SoHo)
Hot tip: Room & Board has the chicest public bathroom in SoHo. Although I'm pretty sure everyone in NYC is in on the secret, because there's always a line. But what may be news is that Room & Board recently added these lovely walnut frames to their 2nd floor restroom.
The photos appear to be printed on regular ol' printer paper (no sheen, a bit grainy). The frames are pieces of walnut veneered plywood with rounded edges and a routed out display. Another genius budget-friendly trick!
Dwell Studio Urban Tag Sale (SoHo)
Tag sales and sample sales do not bring out the best in me. I get overwhelmed, stressed out, and hyper-competitive. It's in my nature to be an impulsive shopper when it comes to home goods. Particularly when they are deeply discounted. But it's decidedly not in my budget to make impulsive purchases. I've learned to compensate by forcing myself to be slow and thoughtful when it comes to purchases. Put it down. Walk away. Go get a coffee. Mull it over. Maybe come back tomorrow. It's a strategy that works for me.
But you know what it doesn't work for? Tag sales. Especially New York City tag sales, where I'm afraid that some 00 in 6-inch stilettos is going to sink her fangs into me if I so much as touch the hot pink lampshade she has her eye on. This lamp shade was a real beauty, but for $45, it wasn't worth a puncture wound and a rabies shot. For $15, I might have risked it.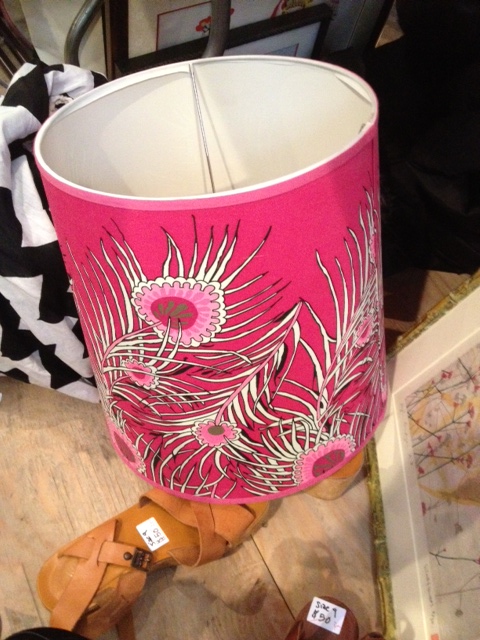 I did almost buy this charcoal-trimmed duvet set (duvet cover and matching shams) for $60, but I made the mistake of applying my "put it down, walk away" strategy and, predictably, someone else walked away with my duvet set in hand. Same story with the slightly scuffed, but hefty and awesome Facet Candleholders for $35.
Another item I spotted in a corner was this cool statement piece made out tangled sailing line. An easy DIY.
My Friend's New Digs
On Saturday afternoon, I got a long awaited sneak peak at my friend's newly renovated apartment. She stained the original hardwood floors a lovely espresso color. (The stain looks more walnut than espresso in the below photo, but it's definitely a darker hue in person.) Don't they look great? The apartment is still an active construction site, but I couldn't resist peeling back the paper to check out the floor treatment. (As previously disclosed, I am super nosy. Don't invite me to your apartment if you don't want me to be invasive and meddling.)
Blu Dot 20/20 Sale (SoHo)
I've had my eye on BluDot's Flask Lamp for a while. Conveniently, Ryan needed a table lamp next to his living room sofa so when I got wind of BluDot's 20/20 sale (extended thru 11/19), I pounced. I think I've said this before, but the sales people at the Wooster St BluDot are so cool. Knowledgeable, friendly, funny! Every time I go in there, I leave thinking, "would it be weird if I asked them if we could be friends?" Don't worry, I restrained myself.
Here's what the lamp looks like in its new home: