November 30, 2012 | Alex
Ryan's Newgate Bubble Clock via West Elm Market finally arrived! We bought one on our Market bender over a month ago, but when we brought it home, we discovered the hour hand was a bit wonky. So back it went. And its back-ordered replacement took about a month to arrive.
Now that it's officially in our clutches, I'm starting to get serious about the small entry way inside Ryan's front door. In addition to the clock, we absolutely need:
a door mat; and
hooks (sufficient for hanging Hektor's leash, keys, Ryan's bike helmet and maybe a jacket).
Space allowing, I'd also like to try to work in the following items:
a boot tray for the sloppy, slushy months ahead (although potentially dangerous to leave shoes exposed, given the whole mischievous puppy situation);
an umbrella receptacle; and
maybe some where for stashing mail.
Here are a few of the products I'm thinking about: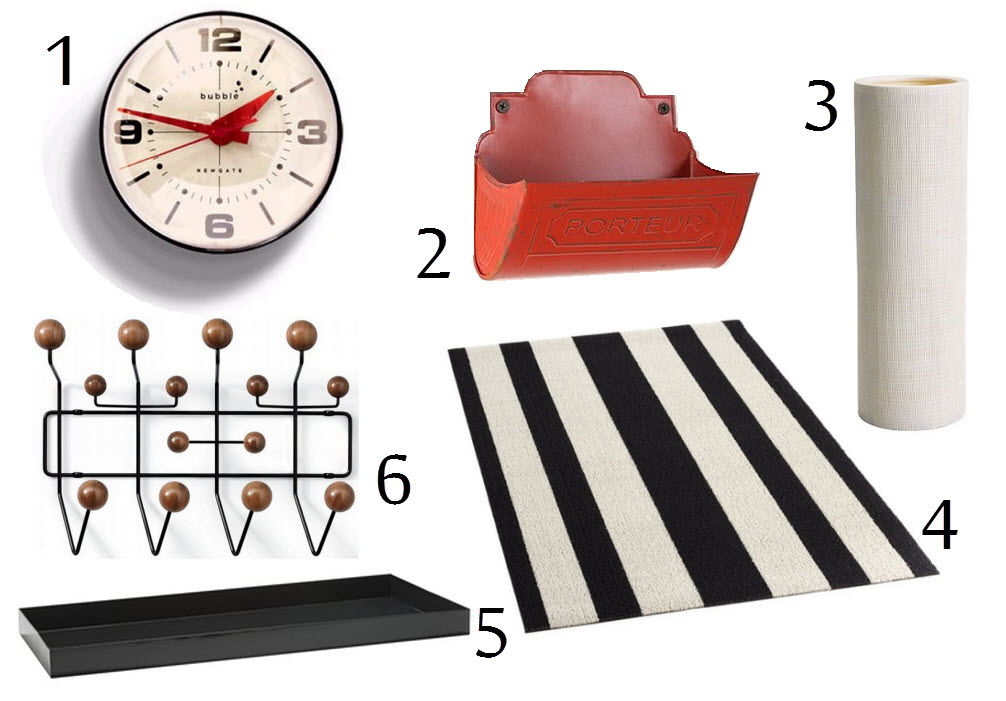 Off to Toronto tonight! Will visit with our wonderful Canadian friend and cruise the One of a Kind Show. Dwell Studio's blog released their Toronto Guide just in time-- alas, it seems the timing was intended to coincide with founder Christine Lemieux's trip, rather than mine. Sigh. Stay tuned for highlights from the show.