I've decided to throw my hat in the ring for Dwell Studio's 4th Annual Modern Thanksgiving Contest. According to the rules, I must create a Pinterest board (check it out) to pin decor ideas for a modern thanksgiving, including at least three items from Dwell Studio. That last part was easy-peasy, because I love me some Dwell Studio. But I thought it would be fun to take it a step further and throw together a few mood boards and a menu for my modern thanksgiving.
First decision: venue. In today's globalized economy (to say the least of this whole "limited employment opportunities for young people" situation stateside), what's more modern than finding yourself abroad for the holidays? My college friends wound up scattered around the globe in pursuit of adventure, jobs, post-graduate education, the occasional cute boy with a sexy accent...and jobs. There's also something really special about celebrating an American holiday with an expat community abroad.
So get ready for a quick 12-hr flight South, because my modern thanksgiving will be taking place in the Argentine Patagonia. Why the Patagonia? Well, it is one of my favorite places in the universe with it's eerily desolate beauty and oodles of amazing animal life. I also like the idea of Thanksgiving night bringing a slight chill, despite the fact that the Southern Hemisphere is on the cusp of summertime. While my venue of choice might not be the best example of a burgeoning economy with buckets-o-jobs for younguns', they have style in spades.
Here are a few landscape shots to set the scene before we jump into a run down of the Holiday festivities.
OUTDOOR COCKTAILS
I thought we'd begin with cocktails al aire fresco to take in the sunset over the steppes. Throw back a few Quilmes, snack on a cheese plate, point at the passing guanaco, huddle around the fire and go around in a circle expressing what we're grateful for. (Like how about this phenomenal Thanksgiving celebration for one?)
D
ECOR
Sources (clockwise from top left)
MENU
Sources
DINING ROOM
Now if you'll kindly follow me to the dining room, which may or may not be some kind of tricked-out barn structure. I love the idea of a chunky rustic dining table paired with Dwell Studio's sexy hammered silver pendant. Since dining benches are sometimes not the comfiest for long holiday meals, I've saved my guest's derrieres from numbness by throwing a saddle-blanket over their seats. (Also, note to sticklers: yah, yah, so that's technically a Navajo blanket not an authentic argentine pattern. Do you know how hard it is to find a decent photo of an argentine saddle blanket? Way hard. I swear I tried.)
Sources (clockwise from top left)
TABLETOP
And now on to the good stuff. The main event. I'd make a table runner out of Dwell Studio's High Wire fabric in Ink.
DECOR
Sources (clockwise from top left)
The hyper observant will note that my guests have neither dinner plates, water glasses nor napkins. Details, details. Who needs napkins when you have sleeves! (...says my dad.) In real life, I'd complete the table with the following items (not pictured above):
Wane Dinner Plate, CB2 - $4.95 (on sale) - With orange appetizer/salad plates stacked on top of the square white dinner plate. Maybe even at an angle!
White Buffet Napkins, Set of 6, World Market - $9.99
Purity Stemmed Water Goblet, Smoke, Manor Home & Gifts - $51
MENU
As anyone who has spent Thanksgiving abroad can tell you, it's a challenge getting your hands on a whole bird in a foreign country. So I think I'll skip the whole headache of explaining Thanksgiving in stilted Spanish to every grocer in Buenos Aires and instead draw on Argentina's rich culinary heritage-- Spanish, Italian and German.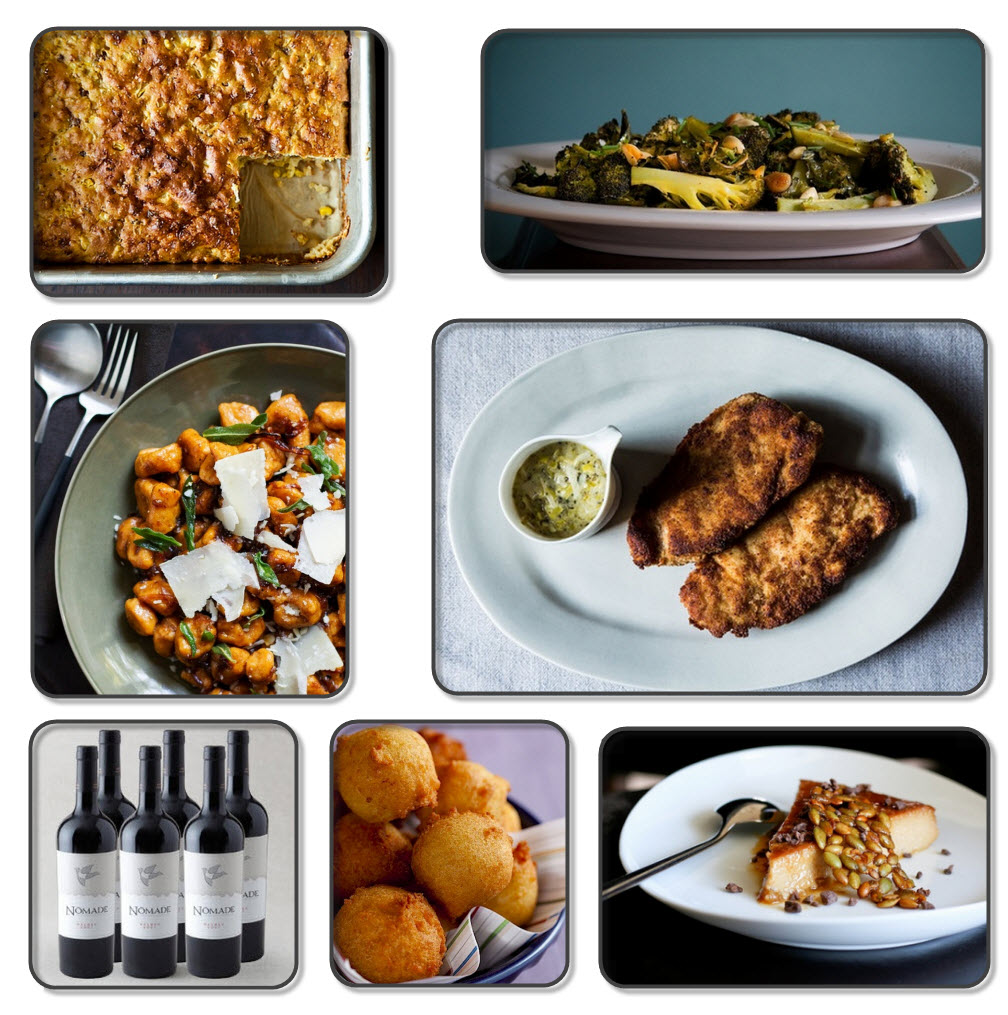 Which dessert would you choose?
Sources (clockwise from top left)
On a personal and cheesy side note (what are holidays for, if not sap?): I spent a couple hours fiddling with this tabletop design. "Tablescaping" (as I hear the fancy pants people are calling it) does not come easily to me. My mom is a master tablescaper. I am a master at enjoying beautiful tables and the food that they convey. But when this mood board FINALLY clicked into place, I smiled this big goofy smile and decided to reward myself with a water break. As I was filling my glass, I realized my heart was booming in my chest. Like I'd run a marathon. Sometimes when I'm super into whatever I'm doing, my heart races. If I ever score a job in the design industry, I hope I remember that and remind myself that, "I love what I do SO much that it makes my heart break into a sprint. How awesome is that?" If only financial regulation puppeteered my heart strings so deftly. Or my rent paid itself.
NAPTIME!
Now that I've reached the tender age of 25, I think I've finally hit my Thanksgiving food consumption stride. I like to over-eat just enough to pay homage to the great american tradition of excess (I'm nothing if not patriotic), but not so much that I have to a) use my arms to hoist myself up from the dining table; or b) change into yoga pants/flannel moose pajamas.
For me and mine, the most hallowed of Thanksgiving traditions is the Tryptophan-induced nap. I like naps. A lot. Depending on how much Turkey is consumed, I try to ease into my nap with some light shelter mag reading before drifting off on, say, the masthead page.
A personal carafe of water is also a post-meal necessity. Exactly 45 minutes after Thanksgiving dinner (or after eating a Shake Shack Shack Stack) an all-consuming thirst descends upon me. You could set a clock by my mouth's reaction to salty foods-- "amazing, amazing, delicious, I want to be with this cheeseburger forever"...45 minutes later, I emerge from a thirst-induced blackout to find myself under arrest for busting open a fire hydrant and trying to drink out of it. This nice shiny pitcher with an oversized handle would make a much more effective vehicle.
Behold the nap set-up of my turkey-addled dreams:
Sources (clockwise from top left)
Happy (almost) Thanksgiving everyone!