September 17, 2012 | Alex
Big progress to report on Ryan's kitchen.
The soapstone countertops are in! Unequivocal success. I cannot speak highly enough of the customer service at M. Teixeira Soapstones. Our interactions were by far the most painless part of the renovation experience. Special thanks to Michelle and Gail!
The whole process-- from ripping out the limestone to installing and oiling the soapstone-- took about 2 hours. The installation team of two was super efficient. At first glace, we were worried that the slabs weren't going to be as veiny as we had hoped. We gravitated towards soapstone because we found the stark contrast between black stone and bright white veins so arresting. (Once we were satisfied that it met basic requirements of heat and stain resistency, of course.)
Unfortunately, when Ryan took the day off to drive out to the NJ showroom to pick out slabs, the shipping container was delayed at port. The poor guy had to turn right back around to make a conference call at the office. With a tight time frame until installation, we were forced to select slabs via digital photos instead of in person. (Not M. Teixeira's fault at all, but not ideal.) Once the soapstone was in place, the installation guys showed us how to rub the soapstone with mineral oil and even left us about a 1-year supply for re-application. Once the slabs were oiled to black, the veins suddenly materialized. Like magic!
Also installed is our new LC 23 Inch Single Bowl sink and Grohe Minta faucet. Photos coming soon. There are displaced cleaning supplies everywhere at the moment. The only major task remaining is to replace the damaged backsplash with subway tile.
In the meantime, I'm starting to think about kitchen accessories. Ryan's trusty old coffee maker is nearing the end of its useful life, so we're thinking about the Krups Silver Art collection 10-cupper. It's one of the best looking coffee makers out there, without a doubt, but I'd like to read a few reviews before we take the plunge. Here are a couple kitchen accessories I like the looks of:
Sources (clockwise, starting with top left)
Lower Cost Alternatives
Magnetic Knife Rack
I've been coveting the Puukko Knife rack for well over a year, but can I justify the $125 price tag? I've thought about making one at Makeville using rare earth magnets, but ultimately, I think Ryan would just like to wrap up this whole kitchen project without waiting on my slow-moving DIY endeavors. The Etsy shop DriftEdge has two magnetic knife racks that might do the trick-- priced between $42 and $48.
Storage Cannisters
We'll probably just order a whole bunch of canning jars from Overstock.com. Something along the lines of the one pictured below, in a variety of sizes. Once winter is in full swing and I'm looking for indoor weekend activities, I may try to fashion some wooden lids on the lathe.
Dish Towels
The West Elm towels are technically bathroom hand towels. We might end up coughing up the 10 bucks a piece, although these Ikea dish towels are particularly appealing at $1 a piece. The deciding factor will be whether they read blue or grey in person.

Wood Grain Clock
Definitely DIY-able. On the hand, I'd like to support the Uncommon Etsy shop and my weekend might be better spent cleaning up and organizing the kitchen now that the disruptive/dusty work is done.
Other Items of Interest
I'm still hoping to surprise Ryan with the below Etsy prints for Christmas. Tat Soi and Radishes-- two of his favorite veggies. I will attend Class #1 of a three-part series on art framing tonight at Makeville. Hopefully I'll be able to frame them myself come December!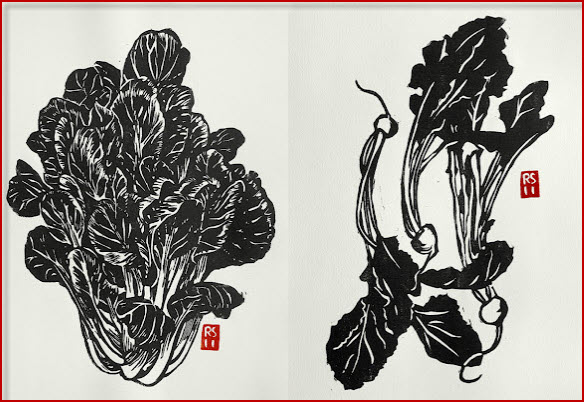 I was browsing the Moma Store's website earlier today and came across the "Step" Ladder by Karl Malmvall. A pop of red might be nice.
And in conclusion, a gratuitous photo of Hektor snoozing at my parents house: