March 21, 2012 | Alex
My very stylish friend just purchased a 1-br apartment at a very fabulous Gramercy Park address. It's definitely a fixer-upper but with enviable pre-war bones. I was lucky enough to get a sneak peak at its pre-renovation condition last week (Who doesn't love a good before/after!)
Seeing the raw space just brimming with potential kicked my right brain into high gear. It's a good thing I started this blog as a release valve. Regrettably, I bombarded my poor friend with a series of stream of consciousness emails the next day. Since I know from experience (ahem, Mom) that helicopter-decorating* can be a real buzz kill, I must try to remind myself that no matter how excited I am about my friend's apartment, she is 50x more excited. She wants to let her creativity run wild without everyone and their mom (literally, in my case) putting their unsolicited two cents in. But hey! That's what a blog is for, right? Hmm.
Once the initial wide-eyed awe subsided, I was a little surprised that my mind kept floating back to her entry way. Don't get me wrong, I am indeed envious of the 24/7 doorman, the gym, the walk-in-closet and the key to the park. (Actually, I'd settle for an apartment in which I didn't have to wear ear plugs every night to drown out the sounds of 4am partying, domestic disputes and-- on 5 separate occasions-- gunshots. Most people don't have occasion to discover this, but yes, it is possible to develop blisters inside your ear. And it hurts just as much as it sounds like.)
So why the entry envy? Partially practical. My door opens right into my living room and, as such, accumulates a staggering amount of junk. I'd love to have even the smallest discrete place for keys, mail, wet umbrellas, boots in the winter, etc. What I especially like about my friend's place is that the doorway is at a 90 degree angle to the living room, so it's essentially out of sight from the main living space.
Which brings me to the heart of the matter. The entry is a transitional space. Particularly if it's out of sight, you can just go nuts. Paint the walls neon pink? Crazy wallpaper? A sculptural seat that would turn your rear-end numb in 30 seconds? No problem! You have fewer practical considerations than in other rooms. You need a surface for small things, maybe somewhere to sit to put on shoes and that's it! The seat doesn't even need to be particularly comfortable. So in a sense, it's your most practical space and your most impractical space.
You should keep in mind that it is the first thing you-- and guests-- see when entering your space. Its your apartment's first impression, so you want to send a message about your taste. I think of it as Runway Fashion vs. Pret-a-Porter. Your entry way is your design concept in its most dramatic and exaggerated form, free of (most) practical concerns of everyday life. Unbridled creativity.
I like to think of myself as a less-is-more kinda girl (whether I am or not is a different matter), but I do go in for fresh flowers and/or scented candles in an entry way. It's so not in keeping with the modern minimalist aesthetic to which I aspire. But, dammit, I like it when a house smells nice!
* Yeah, I just made that term up. Helicopter Parenting meets Decorating, with a hyphen thrown in for good measure (aesthetic, if not grammatical).
Okay, enough soliloquy. Fewer words, more pictures. Here we go, a few of my favorite entry ways spotted on Pinterest: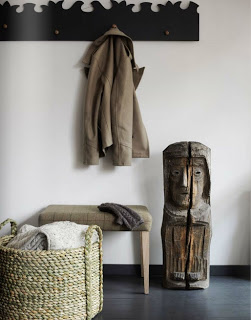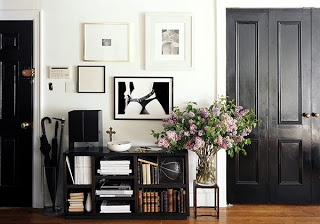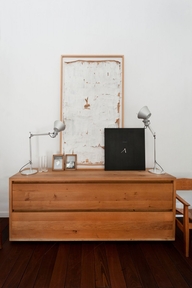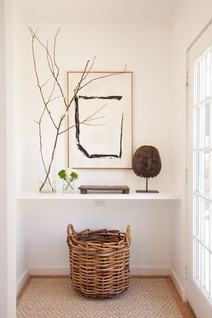 Source: Lindsay Bond Intl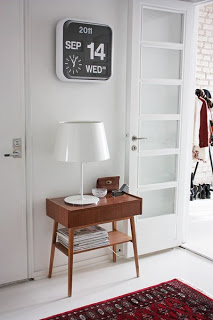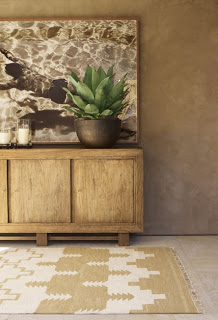 Source: Ralph Lauren Home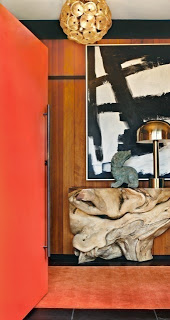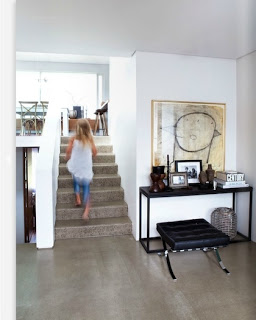 Source: Lovenordic.blogspot.com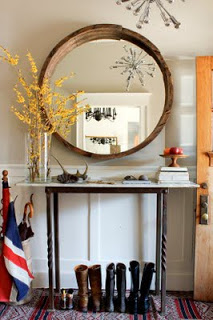 Source: the Marion House Book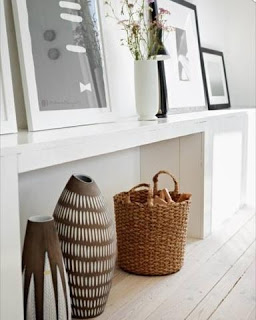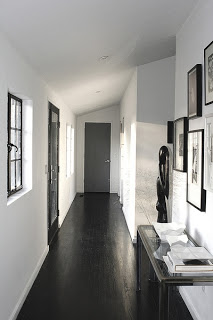 Source: Design-Crisis.com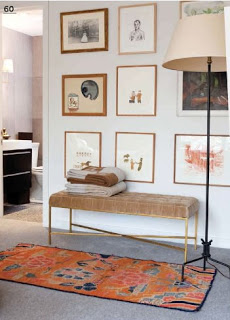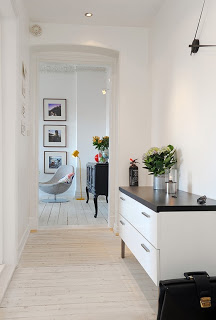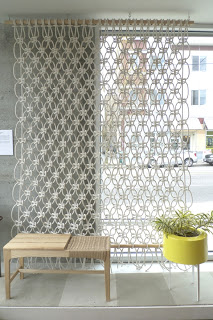 Source: thebrickhouse.tumblr.com
Source: the Marion House Book
If I had 30 seconds to come up with an entry of my own, here's how I'd do it (plus some kind of live edge bowl or shallow dish for keys and mail):